March 2114
No.
Su
Mo
Tu
We
Th
Fr
Sa
9

25

26

27

28

1

2

3

10

4

5

6

7

8

9

10

11
11

12

13

14

15

16

17
12

18

19

20

21

22

23

24

13

25

26

27

28

29

30

31
In 2114 year Ash Wednesday falls on
first Wednesday of March
Date calculations are based on your computer's date and time.
Ash Wednesday is the first day of Lent in the Western Christian calendar. It occurs exactly 46 days before Easter (40 fasting days not counting Sundays). It is a moveable fast that can fall as early as February 4 and as late as March 10.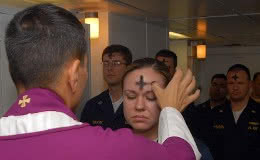 Electronics Technician 3rd Class Leila Tardieu receives the sacramental ashes during an Ash Wednesday celebration aboard the amphibious assault ship USS Wasp (LHD 1).
U.S. Navy photo by Mass Communication Specialist 3rd Class Brian May (Released)
Ash Wednesday is named after the practice of placing ashes on the foreheads of faithful as a reminder of human mortality, and as a sign of mourning and repentance to God. Ash Wednesday is being observed by most Christian, including Catholics, Anglicans, many Lutherans and Methodists. In the Catholic Church, Ash Wednesday is observed by fasting, abstinence from meat. The Anglican Book of Common Prayer also designates Ash Wednesday as a day of fasting.
The custom of sprinkling ashes as a sign of mourning and repentance, celebrated on Ash Wednesday, is known in many cultures and traditions, including in ancient Egypt, Arabs and Greece. In the liturgy, it appeared in the eighth century — the first testimony of the practice comes from the tenth century. In 1091, Pope Urban II launched the custom as binding the whole Church. At the same time, it has been established that the ash has to come from the palm trees dedicated on Palm Sunday of the previous year.
A list of Ash Wednesday dates in the following years
Below are the dates for Ash Wednesday in the next 10 years. You can also see on which day of the week the holiday falls and how many days are left until that date.
| | | |
| --- | --- | --- |
| 2017 | 1 March | Wednesday |
| 2018 | 14 February | Wednesday |
| 2019 | 6 March | Wednesday |
| 2020 | 26 February | Wednesday |
| 2021 | 17 February | Wednesday |
| 2022 | 2 March | Wednesday |
| 2023 | 22 February | Wednesday |
| 2024 | 14 February | Wednesday |
| 2025 | 5 March | Wednesday |
| 2026 | 18 February | Wednesday |
Put a link to this page on your blog or website
Use Ctrl+C to copy the link
If you have found this website useful and would like to let other people know about it, simply copy the link shown above and paste to your blog post or a website. Thank you.