April 1954
No.
Su
Mo
Tu
We
Th
Fr
Sa
14

28

29

30

31

1

2

3

15
4

5

6

7

8

9

10

16
11

12

13

14

15
16

17

17
18

19

20

21

22

23

24

18

25

26

27

28

29

30

1
In 1954 year Easter falls on
third Sunday of April
Date calculations are based on your computer's date and time.
Easter or Pascha is the oldest and most important Christian feast, celebrating the Resurrection of Jesus Christ on the third day after his crucifixion, as described in the New Testament. Easter is preceded by Lent, a forty-day period of fasting and penance.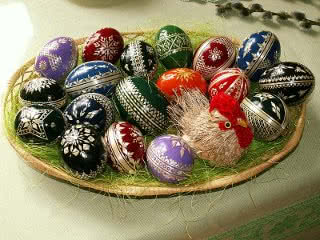 Easter eggs
Jan Kameníček
Easter is a moveable feast and is celebrated on the first Sunday after the first spring full moon. In Western Christianity (including Catholic and Protestant traditions) which uses Gregorian calendar the date of Easter varies between 22 March and 25 April. Eastern Christianity uses the Julian Calendar and for this reason it celebrates Easter about two weeks later, varying between 4 April and 8 May on the Gregorian calendar.
The Apostles celebrated it at the same time when the Jews celebrated their Passover, since the resurrection of Jesus took place the day after the celebration of Passover. It was celebrated by the Israelites to commemorate their deliverance from the slavery in Egypt. At the same time fell Jesus' death and resurrection. The Jews celebrated the Passover on Nisan 14, because that Moses commanded them. The month of Nisan was called the period (30 days) from the new moon in March to the new moon in April. However, due to the fact that Jesus resurrected on Sunday, Christians (starting from the second century) began to celebrate Easter on the first Sunday after the first spring full moon. So it passed the council of Nice in 325 AD, stating that the first spring full moon is considered to be that which falls after the equinox, ie March 21.
List of Moveable Feasts Related to Easter
Dates of many of the most important Christian holidays are related to the date of Easter. Below you can find a list of most of them in 1954 year. Please note that some of them are only observed by the Roman Catholic church while other by most of the Christian churches around the world. Their "popularity" varies also from country to country.
| | | |
| --- | --- | --- |
| Thursday, February 25, 1954 | Fat Thursday | |
| Tuesday, March 2, 1954 | Shrove Tuesday (Mardi Gras) | |
| Wednesday, March 3, 1954 | Ash Wednesday | |
| Sunday, April 11, 1954 | Palm Sunday | |
| Thursday, April 15, 1954 | Maundy Thursday | |
| Friday, April 16, 1954 | Good Friday | |
| Sunday, April 18, 1954 | Easter | |
| Monday, April 19, 1954 | Easter Monday | |
| Thursday, May 27, 1954 | Ascension of Jesus | |
| Sunday, June 6, 1954 | Pentecost | |
| Thursday, June 17, 1954 | Corpus Christi | |
A list of Easter dates in the following years
Below are the dates for Easter in the next 10 years. You can also see on which day of the week the holiday falls and how many days are left until that date.
| | | |
| --- | --- | --- |
| 2015 | 5 April | Sunday |
| 2016 | 27 March | Sunday |
| 2017 | 16 April | Sunday |
| 2018 | 1 April | Sunday |
| 2019 | 21 April | Sunday |
| 2020 | 12 April | Sunday |
| 2021 | 4 April | Sunday |
| 2022 | 17 April | Sunday |
| 2023 | 9 April | Sunday |
| 2024 | 31 March | Sunday |