February 2017
No.
Su
Mo
Tu
We
Th
Fr
Sa
5

29

30

31

1

2

3

4

6
5

6

7

8

9

10

11

7

12

13

14

15

16

17

18

8

19

20

21

22

23

24

25

9

26

27

28

1

2

3

4
In 2017 year Groundhog Day falls on
first Thursday of February
Groundhog Day dates in the following years:
The dates the holiday is observed are marked with a dotted line (applies to federal holidays). Date calculations are based on your computer's time.
Groundhog Day 2017
Thursday, February 2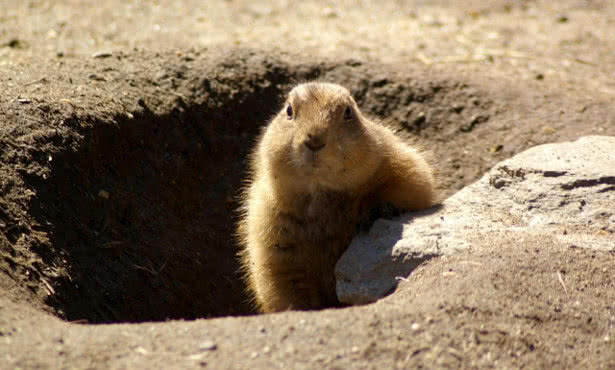 Groundhog Day is a holiday celebrated on February 2 originating from the custom of early German-speaking immigrants to Pennsylvania in the 18th and 19th centuries. If on this day a groundhog emerges from its winter burrow and its sunny, it will see its shadow and retreat back into the burrow, and the winter will last for six more weeks. Otherwise, if the weather is cloudy, the groundhog will remain out, and the spring will come early.
According to research by the National Oceanic and Atmospheric Administration the groundhog's forecasts are not very accurate on average [1]. However, the tradition is surely an important part of the cultural heritage and a source of inspiration. It was the main theme of well received "Groundhog Day" comedy film (1993) directed by Harold Ramis, starring Bill Murray and Andie MacDowell.
Put a link to this page on your blog or website
Use Ctrl+C to copy the link
If you have found this website useful and would like to let other people know about it, simply copy the link shown above and paste to your blog post or a website. Thank you.