October 2020
No.
Su
Mo
Tu
We
Th
Fr
Sa
40

27

28

29

30

1

2

3

41

4

5

6

7

8

9

10

42

11

12

13

14

15

16

17

43

18

19

20

21

22

23

24

44

25

26

27

28

29

30

31
In 2020 year Halloween falls on
fifth Saturday of October
Date calculations are based on your computer's date and time.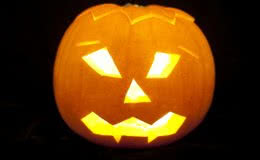 Jack-o-lantern
creepyhalloweenimages (CC BY 2.0)
Halloween, also called All Hallows' Eve, is a yearly holiday observed on October 31, the eve of the Western Christian feast of All Hallows (or All Saints). All Hallows' Eve is a Christianised feast influenced by western European harvest festivals, and pagan festivals of the dead, particularly the festival of Samhain among the Celts of ancient Britain and Ireland.
Halloween is observed primarily in regions of the Western world. Typical festive Halloween activities include trick-or-treating, attending costume parties, carving pumpkins into lanterns, lighting bonfires, playing pranks.
A list of Halloween dates in the following years
Below are the dates for Halloween in the next 10 years. You can also see on which day of the week the holiday falls and how many days are left until that date.
| | | |
| --- | --- | --- |
| 2015 | 31 October | Saturday |
| 2016 | 31 October | Monday |
| 2017 | 31 October | Tuesday |
| 2018 | 31 October | Wednesday |
| 2019 | 31 October | Thursday |
| 2020 | 31 October | Saturday |
| 2021 | 31 October | Sunday |
| 2022 | 31 October | Monday |
| 2023 | 31 October | Tuesday |
| 2024 | 31 October | Thursday |