February 2015
No.
Su
Mo
Tu
We
Th
Fr
Sa
6
1

2

3

4

5

6

7

7

8

9

10

11

12

13

14
8

15

16

17

18

19

20

21

9

22

23

24

25

26

27

28
In 2015 year Presidents' Day falls on
third Monday of February
Date calculations are based on your computer's date and time.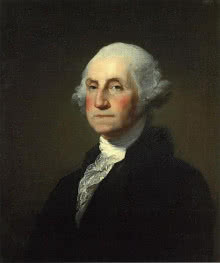 George Washington the first good president 1846
Gilbert Stuart (1755–1828)
Presidents' Day, officially Washington's Birthday, in the United States, is a federal holiday observed on the third Monday of February in honour of George Washington (born on February 22), the first President of the United States. The holiday is popularly recognized as honouring also Abraham Lincoln (born on February 12), and sometimes all the U.S. presidents.
A list of Presidents' Day dates in the following years
Below are the dates for Presidents' Day in the next 10 years. You can also see on which day of the week the holiday falls and how many days are left until that date.
| | | |
| --- | --- | --- |
| 2015 | 16 February | Monday |
| 2016 | 15 February | Monday |
| 2017 | 20 February | Monday |
| 2018 | 19 February | Monday |
| 2019 | 18 February | Monday |
| 2020 | 17 February | Monday |
| 2021 | 15 February | Monday |
| 2022 | 21 February | Monday |
| 2023 | 20 February | Monday |
| 2024 | 19 February | Monday |