November 2017
No.
Su
Mo
Tu
We
Th
Fr
Sa
44

29

30

31

1

2

3

4

45
5

6

7

8

9

10
11
46

12

13

14

15

16

17

18

47

19

20

21

22

23
24

25

48

26

27

28

29

30

1

2
In 2017 year Thanksgiving Day falls on
fourth Thursday of November
Thanksgiving Day dates in the following years:
The dates the holiday is observed are marked with a dotted line (applies to federal holidays). Date calculations are based on your computer's time.
Thanksgiving Day 2017
Thursday, November 23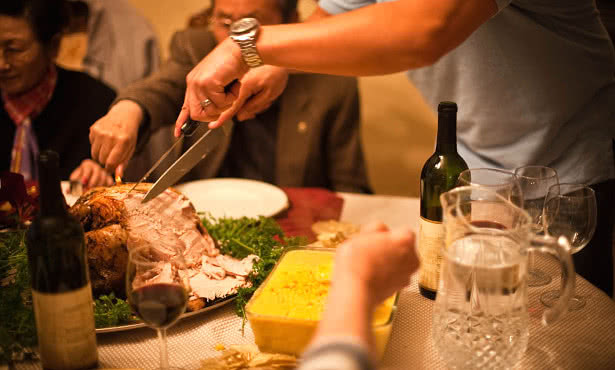 Thanksgiving Day is an annual national holiday in the United States and Canada celebrating the harvest and other blessings of the past year. In the US Thanksgiving is celebrated on the fourth Thursday of November while in Canada nearly one month and a half earlier (second Monday of October). Thanksgiving has deep roots in religious tradition, but nowadays it is primarily celebrated as a secular holiday.
Thanksgiving tradition began in early XVII century, but the date and popularity varied between states. First nation-wide Thanksgiving was proclaimed on November 26, 1789 by George Washington. The contemporary date of fourth Thursday of November was set in 1941 by federal legislation.
Thanksgiving Celebration
Thanksgiving is a great time to be thankful and appreciate who you have and what you have. It is a time for families to meet, socialize and enjoy each other's company, sometimes the only opportunity in a year. Some prefer it to Christmas because of less emphasis on consumerism. Thanksgiving, for most, is also a start of a four day weekend which is great, too.
Put a link to this page on your blog or website
Use Ctrl+C to copy the link
If you have found this website useful and would like to let other people know about it, simply copy the link shown above and paste to your blog post or a website. Thank you.