November 2016
No.
Su
Mo
Tu
We
Th
Fr
Sa
45

30

31

1

2

3

4

5

46
6

7

8

9

10

11

12

47

13

14

15

16

17

18

19

48

20

21

22

23

24
25

26

49

27

28

29

30

1

2

3
In 2016 year Veterans Day falls on
second Friday of November
Veterans Day dates in the following years:
The dates the holiday is observed are marked with a dotted line (applies to federal holidays). Date calculations are based on your computer's time.
Veterans Day 2016
Friday, November 11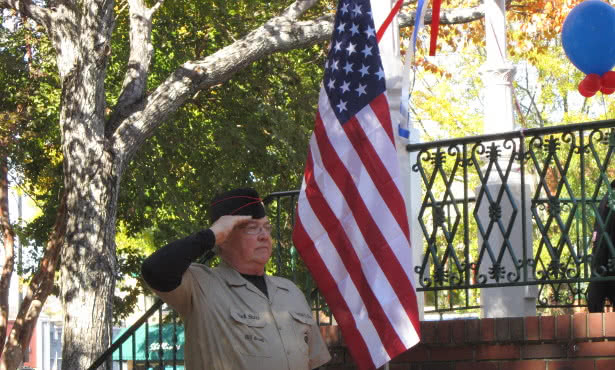 Veterans Day is an official United States holiday which honors people who have served in armed service also known as veterans. It is a federal holiday that is observed on November 11.
The precursor of Veterans Day was Armistice Day, proclaimed by U.S. President Woodrow Wilson for November 11, 1919, to honor those members of the armed forces who were killed during war World War I. The date of 11th November was chosen to commemorate the armistice signed between the Allies of World War I and Germany at Compiègne, France, for the cessation of hostilities on the Western Front of World War I. An Act (52 Stat. 351; 5 U. S. Code, Sec. 87a) approved May 13, 1938, made the 11th of November in each year a legal holiday — a day to be dedicated to the cause of world peace and to be thereafter celebrated and known as "Armistice Day."
In 1954, after World War II and after American forces had fought aggression in Korea the Congress amended the Act of 1938 by striking out the word "Armistice" and inserting in its place the word "Veterans." With the approval of this legislation (Public Law 380) on June 1, 1954, November 11th became a day to honor American veterans of all wars.
Veterans Day is not to be confused with Memorial Day. Veterans Day celebrates the service of all U.S. military veterans, while Memorial Day is a day of remembering the men and women who died while serving.
What if Veterans Day falls on a weekend?
Federal Government offices are closed on November 11, but if Veterans Day falls on a Saturday, they are closed on Friday November 10. If Veterans Day falls on a Sunday, they are closed on Monday November 12.
Put a link to this page on your blog or website
Use Ctrl+C to copy the link
If you have found this website useful and would like to let other people know about it, simply copy the link shown above and paste to your blog post or a website. Thank you.