June 2014
No.
Su
Mo
Tu
We
Th
Fr
Sa
23

1

2

3

4

5

6

7

24
8

9

10

11

12

13

14
25
15

16

17

18

19

20

21

26

22

23

24

25

26

27

28

27

29

30

1

2

3

4

5
In 2014 year Flag Day falls on
second Saturday of June
Date calculations are based on your computer's date and time.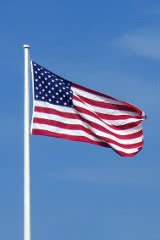 Flag Day, also called National Flag Day, in the United States, is a day honouring the adoption of the national flag. It commemorates the date in 1777 when Congress approved the design for the first national flag.
The idea for a holiday to honour the national flag was proposed by a Bernard J. Cigrand, a schoolteacher, in 1855. In 1916, President Woodrow Wilson issued a proclamation that officially established June 14 as Flag Day and in August 1949, National Flag Day was established by an Act of Congress.
A list of Flag Day dates in the following years
Below are the dates for Flag Day in the next 10 years. You can also see on which day of the week the holiday falls and how many days are left until that date.
| | | |
| --- | --- | --- |
| 2015 | 14 June | Sunday |
| 2016 | 14 June | Tuesday |
| 2017 | 14 June | Wednesday |
| 2018 | 14 June | Thursday |
| 2019 | 14 June | Friday |
| 2020 | 14 June | Sunday |
| 2021 | 14 June | Monday |
| 2022 | 14 June | Tuesday |
| 2023 | 14 June | Wednesday |
| 2024 | 14 June | Friday |