February 1964
No.
Su
Mo
Tu
We
Th
Fr
Sa
5

26

27

28

29

30

31

1

6

2

3

4

5

6

7

8

7

9

10

11

12

13

14

15

8

16

17

18

19

20

21

22

9

23

24

25

26

27

28

29
In 1964 year Valentine's Day falls on
second Friday of February
Date calculations are based on your computer's date and time.
Saint Valentine's Day, also known as Valentine's Day, is observed on February 14 each year. It is celebrated in many countries around the world.
St. Valentine's Day began as a liturgical celebration of one or more early Christian saints named Valentinus. Very few facts are known about St. Valentine. He was a priest in Rome who was martyred about AD 269 and buried on the Via Flaminia (road leading from Rome over the Apennine Mountains). The most popular martyrology states that he was a priest near Rome in about the year 270 AD, a time when the church was enduring great persecution. His ministry was to help the Christians to escape this persecution, and to provide them the sacraments, such as marriage. The Roman Emperor Claudius II supposedly forbade marriages of soldiers in order to grow his army, believing that married men did not make for good soldiers.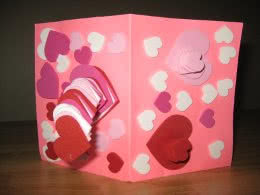 Valentine's day card
Nathan Cooprider (CC BY 2.0)
Contemporary the Valentine's Day is connected mainly with romantic love. The modern Valentine's Day customs developed in early modern England and spread in the 19th century. The customs include sending cards, flowers, chocolates to one's beloved. Paper Valentine cards became so popular in England in the early 19th century that they were assembled in factories.
A list of Valentine's Day dates in the following years
Below are the dates for Valentine's Day in the next 10 years. You can also see on which day of the week the holiday falls and how many days are left until that date.
| | | |
| --- | --- | --- |
| 2017 | 14 February | Tuesday |
| 2018 | 14 February | Wednesday |
| 2019 | 14 February | Thursday |
| 2020 | 14 February | Friday |
| 2021 | 14 February | Sunday |
| 2022 | 14 February | Monday |
| 2023 | 14 February | Tuesday |
| 2024 | 14 February | Wednesday |
| 2025 | 14 February | Friday |
| 2026 | 14 February | Saturday |
Put a link to this page on your blog or website
Use Ctrl+C to copy the link
If you have found this website useful and would like to let other people know about it, simply copy the link shown above and paste to your blog post or a website. Thank you.